Estonian service lets you email random Russians to inform them about the war in Ukraine
The Estonian tech community has created a service that lets you email random Russian email addresses to tell them what is happening in the war in Ukraine – as many Russians only get their information from the Russian propaganda channels and don't believe there even is a war going on in Ukraine.
The website, called pravdamail.com, calls on people to send pre-written emails to random Russians about the war in Ukraine, saying that "many in Russia continue to support dictator Vladimir Putin because they only know the 'facts' from state propaganda."
You can use this site to let them know what's really going on. They've collected more than a million Russian email addresses just for that.
10 Russian soldiers wanted for war crimes in Ukraine.
Vasily Knyazev, Semyon Maltsev, Andrei Biyazev, Sergei Peskarev, Grigory Naryshkin, Dmitry Sergienko, Vyacheslav Lavrentyev, Albert Radnaev, Mikhail Kashin and Nikita Akimov.

Still just as true today.
David 1 – 0 Goliath

Germany 1915 – 2022 Ukraine
So, History really does repeat itself!
None so deaf as he who will not listen


One day soon, it will happen

Ukraine Subdues One-Third of Russian Invasion Force

A broken gun barrel of a Russian tank is seen in the Ukrainian battlefield
Estimates of Russia's combat losses suggest that about one-third of Moscow's pre-staged forces have been destroyed or rendered incapable.More than 45,000 Russian invaders, including high-ranking officers like General Vitaly Gerasimov and Andrei Sukhovetsky, have been killed, wounded or taken prisoner. 20 percent of the 1,700 estimated tanks that Russia had prepared for the invasion have been destroyed.A quarter of 4,300 armored combat vehicles have also been wiped out. 13 percent of 375 aircraft units and 81 out of 240 helicopters were shot down.
Ukraine resistance destroy Russian bomber
Kyiv Post's Syrian owner determined to help defend Odesa
The publisher of the Kyiv Post, Adnan Kivan, says he is devoting his business resources to Ukraine's war effort against an unprovoked Russian invasion that started on Feb. 24.
Cement, steel and other building materials are being re-purposed for the defensive needs of the Ukrainian military, the Odesa-based property development magnate on March 1 told the business side of the newspaper.
Pictures in the Kyiv Post show the Syrian native's Kadorr Group with steel beams being transformed into X barricades (hedgehogs), for example.

The self-described "Ukrainian patriot" is distributing the building materials at his disposal in and around Odesa, a vital Black Sea coastal city and one of Ukraine's major cities with a population of at least one million that hasn't fallen to invading Russian forces.


Kivan and his staff are donating food, hot beverages and clothing on the outskirts of Odesa to all in need.
Kivan bought the Kyiv Post in 2018 and also owns local Channel 7 in Odesa, which continues to broadcast and inform viewers of Russia's ongoing war against Ukraine since 2014.
The self-made multi-millionaire stresses his determination to continue to defend Ukraine's democracy and independence and is not planning to evacuate himself from his threatened home city.
Ukraine fighters shoot down Invading Russian helicopter.
Norwegian spammer takes on Russians at own game.
A Norwegian computer expert has created a website enabling anyone to send an email about the war in Ukraine to up to 150 Russian email addresses at a time, so that Russian people have a chance to hear the truth their government is hiding.
All over Russia email inboxes are pinging.
Millions of messages are being received with the same intriguing subject Ya vam ne vrag – I am not your enemy.
The message appears in Russian with an English translation and it begins: "Dear friend, I am writing to you to express my concern for the secure future of our children on this planet. Most of the world has condemned Putin's invasion of Ukraine."
The lengthy email goes on to implore Russian people to reject the war in Ukraine and seek the truth about the invasion from non-state news services.
In just a few days, more than 22 million of these emails landed in Russian inboxes, and they're being sent by volunteers around the world, who are donating their time and email addresses to the cause.
It's one of a growing number of unique ways that hackers, activists and every day people around the world are trying to reach out to Russian people online to circumvent media blocks and censorship. One Polish Twitter user's idea to post reviews talking about the war to Russian businesses on Google and Yandex went viral.
Elsewhere hacker groups claim to have defaced Russian news websites with messages to Russian people to "stop Putin".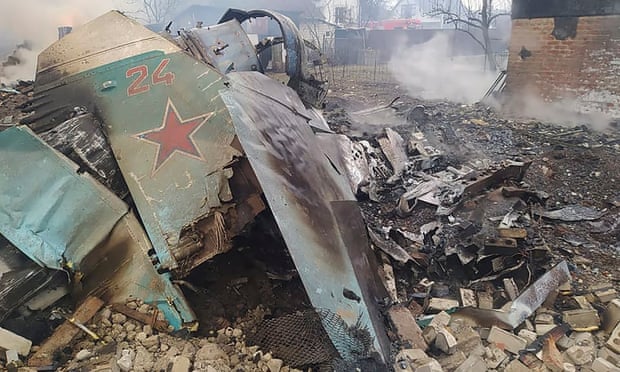 Remains of a Russian Aircraft downed by Ukrainian fighters at Chernigiv.
But the spam email campaign created by a small team in Norway seems to have caught the imagination of thousands of people searching for ways to help Russians learn about the war.
A US transport aircraft dropping leaflets on Korea
Image source, Getty Images
"During the Second World War, and in earlier wars, people flew over Germany with leaflets and dropped them out. This is just a more modern way of trying to get people to open their eyes," says Fabian, who came up with the idea.
The 50-year-old Norwegian, who runs a computer network business, doesn't want his surname to be published for fear of retaliation from the Russian authorities. He says he felt compelled to do something after becoming increasingly anxious about the possibility of World War Three.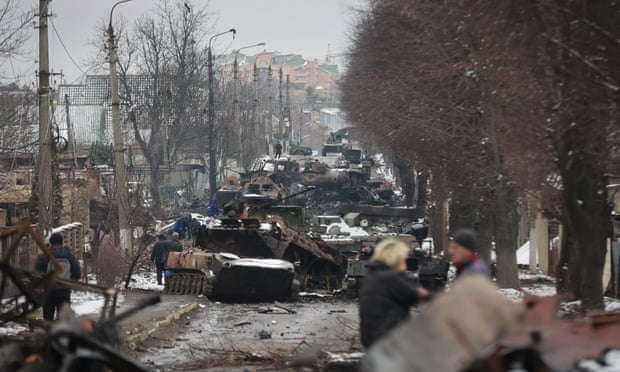 More Russian vehicles destroyed outside Kiev.
Gallant, determined Ukrainian Citizens defeat poorly-trained ill-disciplined Russian conscripts.
Thousands of Russian soldiers are thought to have been killed as Vladimir Putin's invasion of Ukraine has a growing toll.
Україна переможе російського тирана!
So what have we got so far?
An overconfident Russian military stopped in its tracks by a well-equipped, highly motivated and determined opponent.
Russian forces are getting bogged down. They've suffered thousands of casualties and lost a shedload of equipment.
Putin is failing in Ukraine and sanctions are tearing rhe Russian economy apart.
Ordinary Russian citizens are starting to rise up against him.
Putin may not be swayed by public opinion but just as the Tzars, he ignores them at his peril. The Russian people have revolted before – They can do it again.
How long before we see a replay of 1917?
осторожно !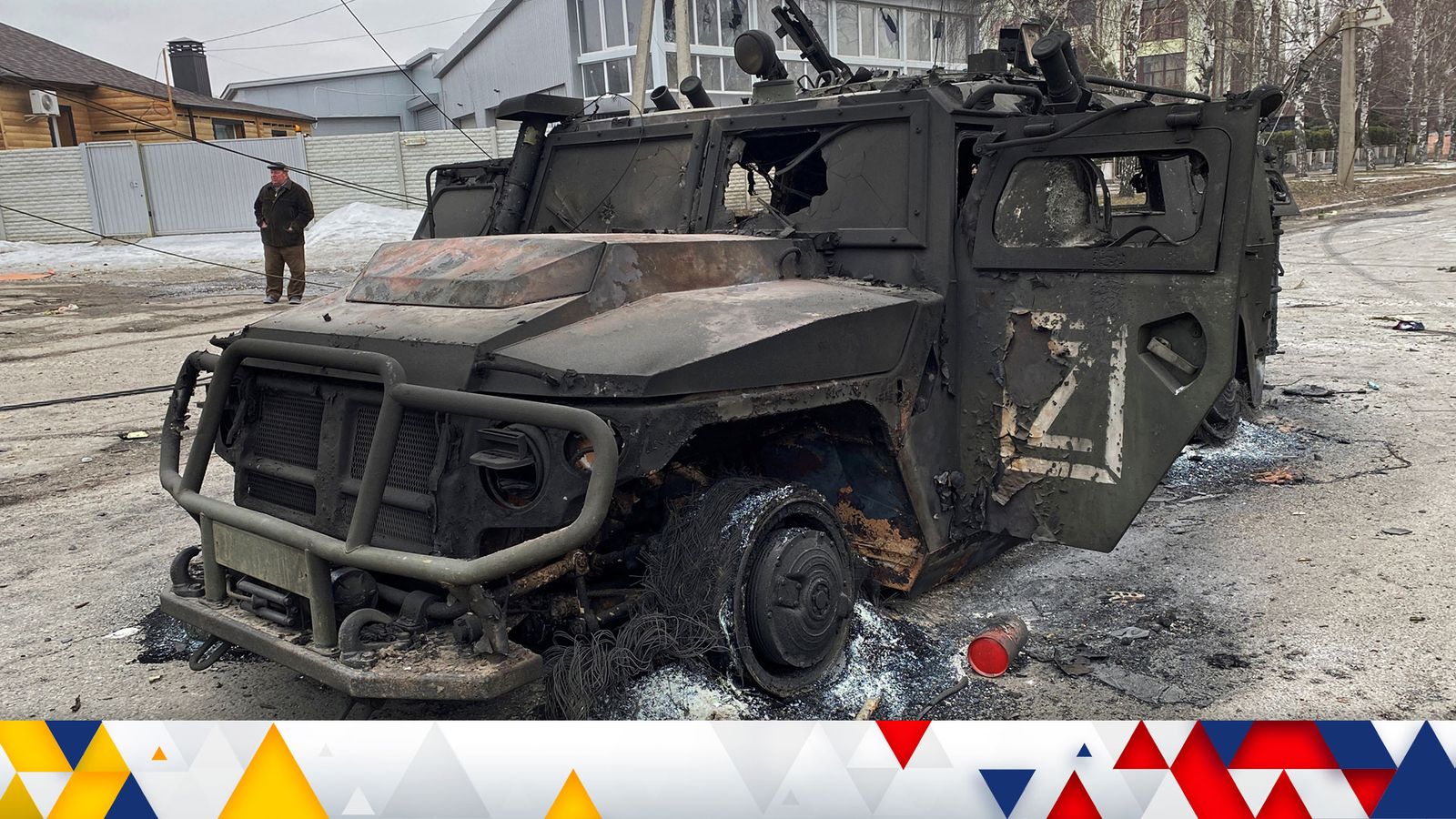 A destroyed Russian Army vehicle on a road in Kharkiv on Monday.

Russian aircraft shot down in Kiev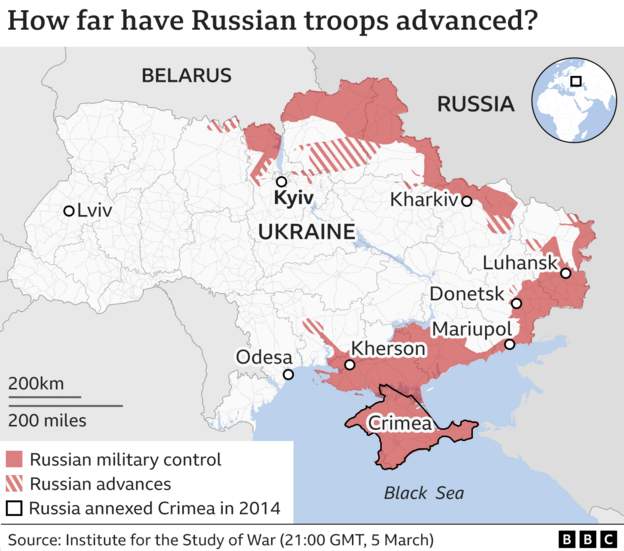 Nearly 2 weeks and this is all the Russians have taken so far. Ukrainian forces have slowed them almost to a stand still. Just as Gorbachev was chased out of Afghanistan with his tail between his legs  now, Vlad the Invader will get the same treatment from the mighty Ukrainian freedom fighters..
Putin is nowt but a tyrant and he'll suffer the same fate as  every tyrant in history.
The Ides of March are looming.
Beware the Ides of March!
oбережно !